Ahead of the Anambra governorship election scheduled for November 6, 2021, the Peoples Democratic Party in the state has continued to swim in troubled water.

Despite the efforts of influential personalities in the party to close ranks, some major key players of PDP in Anambra PDP  decided to dump the party because of unresolved issues that emanated from the governorship primaries.

However, the  Anambra PDP stakeholders who decamped to APC  have now revealed the reason that left the party.

A report by The Nation  Newspaper on Wednesday revealed that the stakeholders of PDP that dumped the party claimed they were leaving PDP for the former Governor of Anambra State, Peter Obi, who they accused of hijacking the party because of his 'anointed candidate', Valentine Ozigbo.

Photo credit: Naija News (Photos of Peter Obi, Senator Stella Oduah and Chief Chris Chikwelu)

The report revealed that the unresolved issues that transpired at the Prof Dora Akunyili Women's Development Centre, the venue of the party's governorship primaries forced the major key players in Anambra PDP to decamp to APC.

Recall that major key players in Anambra chapter of PDP like Senator Stella Oduah representing Anambra North Senatorial District, former Board of Trustees of the Party, Senator Joy Emodi, House of Representative member, Linda Ikpeazu, Chief Chris Chikwelu amongst others decamped to APC.

The stakeholders who faulted the governorship primaries that produced Valentine Ozigbo, the 'anointed candidate of Peter Obi', alleged that they left PDP because of Peter Obi who they claimed has hijacked the party because of his candidate.

The Aggrieved Stakeholders Chose to Fight Back 

The unresolved issues from PDP governorship primaries that produced Ozigbo made the stakeholders to join the All Progressives Congress with their supporters and now working for the success of APC in the November 6, governorship election in the State.

The influential political players who accused Peter Obi of hijacking Anambra PDP because of Ozigbo chose to fight back after rejecting every move for reconciliation after the governorship primaries.

Some of the stakeholders like Senator Stella Oduah, Senator Joy Emodi, Linda Ikpeazu and Chief Chris Chikwelu will be fighting for APC to win their various constituencies in the November 6, governorship poll.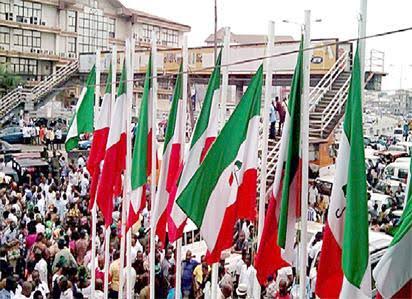 This development might deplete the chance of PDP in the November 6, governorship election in Anambra State unless the party is able to device a means to win the constituencies of the defected stakeholders.